Michael Krammer: dancer of many talents
Christchurch dancer Michael Krammer is a man of many talents, working in various roles from dancer, tutor and volunteer to trust member with Jolt Dance.
Michael is a founding member of Jolt Dance, set up by Lyn Cotton in 2002. He has a long list of achievements in dance, and has performed in most of the company's major shows and performances. He was also Highly Commended in the Arts Access Artistic Achievement Award 2015.
Michael, who has autism, was one of five artists who participated in the "I'm an artist" campaign that happen in Christchurch, Hamilton, Auckland, Wellington and Dunedin.
Arts Access Aotearoa organised the campaign with funding from the Ministry of Social Development's Making A Difference Fund. It aimed to change attitudes and behaviour towards people with a disability, sensory impairment or lived experience of mental ill-health.
It also promoted disabled people and those with lived experience of mental ill-health as artists who make great art with the support and guidance of community-based creative spaces.
Jolt is an inclusive, integrated company, which provides dance training and performance opportunities for all ages and abilities. Lyn Cotton, its Artistic Director, says Michael takes every challenge offered to him to develop, learn and contribute to the wider dance community.
"Michael is an exceptional young man and his commitment to dance is total. He is a beautiful dancer who has produced work of a high quality with Jolt Dance," she says.
"He has a wonderfully open and fluid style, and is skilled at dancing with diverse partners – from professional dancers to people with complex disabilities. He has great openness and compassion as well as movement technique. He makes others look good when he is dancing."
Michael's greatest achievement
Michael rates his greatest achievement as being a part of Jolt Dance. "It has changed my life and I get the chance to work with some amazing people such as Lyn Cotton and choreographers Fleur De Their and Erica Viedma, to name just a few."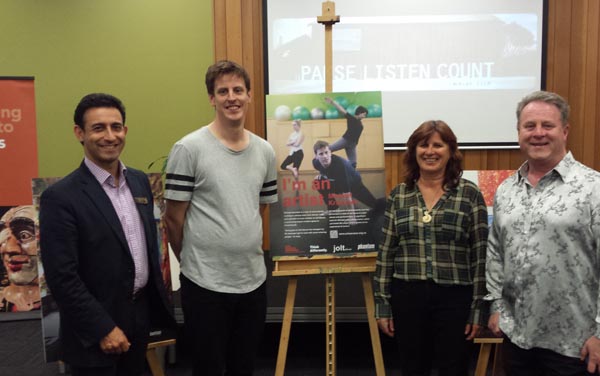 For Michael, dance and movement are a way to express himself. "I can be myself. With dance, there is no right and wrong.
"I have done a lot of shows where people come to see me dance on stage. I feel nervous but I just pretend there is no audience and then I can dance."
Not one to sit on the side and watch, Michael is involved in all areas of the dance company – from dancing and choreography training as a tutor to being a volunteer assistant with two of the Jolt classes. He is also a trust member.
The Move tutor training scheme
In addition, he's a trainee in the Move tutor training scheme. His training involves learning how to teach integrated dance and support people with complex and profound disabilities. As a result of his training, he has recently started to teach his own dance class at the conductive education unit at Addington Primary School.
"Each session has it challenges," Michael says. "Each student has their own ability to dance in their own way. I support them in doing what they want to do, and help them find ways to move and show what they feel."
In 2007, a significant work for Michael was a performance that looked at his experience of autism. Called Let Inside Me Laugh, it was performed in Christchurch and Dunedin.
About this work, a Christchurch audience member said: "It was inspiring and challenging. I saw the world through their eyes."